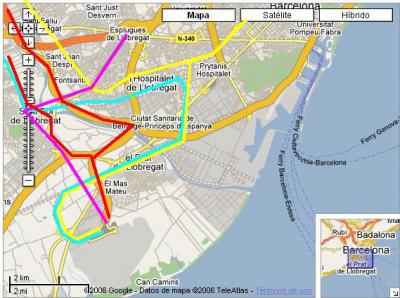 There are different kind of public transport. We have bus and train.
There are buses to travel into the town. And there are buses to go to other towns or Barcelona city.
The train goes to Barcelona city and other towns of Barcelona.
The problem of the buses is the time that you stay in the bus-stop if you lost it.
The train is quicker if you go to Barcelona city.
Ana Romera


PUBLIC TRANSPORT
Lines of buses in Sant Boi of Llobregat (Barcelona).
SB1
SB2
L70
L72
L74
L75
L77
L78
L96
TRAIN (Ferrocarrils de la Generalitat).
SB1
The urban bus off the town of Sant Boi . ( The main stop is the station and the hospital ( comarcal).
SB2
The urban bus of the town of Sant Boi. ( outside suburbs ).
L 70 –72
Two buses that go by comercial areas the finish is in the city of Barcelona.
L 77-78
T

wo buses , the 77 goes to the city of Prat de Llobregat. And the 78 goes to the Airport.
L 74-75
Two buses ,they connect with the underground line 5 and the tram.
L 96
One bus goes to Viladecans,Gava abd finishes in Casteldefels in the beach area).
TRAIN
Goes to Barcelona and Monserrat , Igualada.

Mª Angeles and Marga